Like so many aging Americans on the planet earth, "Star Trek's" Nichelle Nichols has been diagnosed with dementia, according to reports. Nichelle was best known for playing Lieutenant Uhura on the TV show "Star Trek". According to her conservatorship documents obtained by the website TMZ, the 85-year-old star has "moderate progressive dementia."
Reports indicate her doctor saying she has a major impairment in short-term memory and moderate impairment when it comes to abstract concepts, time, place and recall. In 2015, she suffered a mild stroke while at home. Often a stroke can lead to mild to progressive cognitive impairment, This usually requires supervision and long-term care services and supports.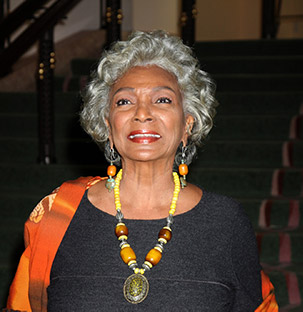 She began her show business career at age 16 as a singer with Duke Ellington in a ballet she created for one of his compositions and later sang with his band. After switching to acting, she was twice nominated for the Sarah Siddons Award for best actress in "The Blacks" and "Kicks and Company". Her film debut found her dancing with Sammy Davis Jr. in Porgy and Bess (1959). A guest appearance on The Lieutenant (1963) led to an offer from Gene Roddenberry to join the cast of Star Trek (1966). Her best known role on the series is communications officer Lieutenant Nyota Uhura. She later repeated her role in a string of successful Star Trek films.
Worldwide, around 50 million people have dementia. Every year, there are nearly 10 million new cases. In the United State, one in three seniors dies with some form of dementia or Alzheimer's, according the Alzheimer's Association. This is more than both breast cancer and prostate cancer combined. The result is billions in caregiving costs and impact to families and their assets.
People require long-term care due to illness, accidents or the impact of aging. Planning in advance with affordable Long-Term Care Insurance will safeguard your savings and reduce the burdens placed on family members as you grow older. This will also give you and your family extra peace-of-mind.
Start your research by finding the cost of long-term care in your state and the availability of tax incentives and state partnership programs which provide additional asset protection if you own a special type of Long-Term Care policy. LTC NEWS Cost of Care Map will a great resource to start with: https://www.ltcnews.com/resources/state-information.
Long-Term Care Insurance is easy, affordable and rate stable income and asset protection. Experts suggest planning prior to retirement.