Super Bowl Owner Falls to Alzheimer's as Super Crooner Diagnosed
One man lost his battle to Alzheimer's as another man gets diagnosed. Because they are well known the world knows but the impact of dementia, including Alzheimer's hits many American families.
4 Min Read
June 14th, 2019
The word 'super" applies to two men whose families feel the impact of Alzheimer's. Pat Bowlen was not a well-known athlete, however as the owner of the Denver Bronco's he had a huge impact on the National Football League, the City of Denver, and football game everywhere.
Bowlen, who battled from Alzheimer's for many years, passed away peacefully at home surrounded by loved ones according to a statement released by the Denver Broncos. As football fans know, he is credited for turning around that franchise into football champions as well as shaping the NFL helping to negotiate huge television deals that helped shape the NFL into the sports powerhouse it is today.
This happened a day before one of the "super crooners" of the 1960s and half the duo "Steve and Eydie", Steve Lawrence, announced he has been diagnosed by the same devastating disease. The well-known singer has many hits and alongside his wife, Eydie Gorme, tired the world and entertained on Tv and radio.
Steve Lawrence had a huge voice who is best known for hits like "Go Away Little Girl" His wife, Eydie Gorme, who died in 2013, toured with him as they sang together on many songs.
It's hard for most people not to know someone who suffers from this disease. Alzheimer's, and other forms of dementia are one of the biggest reasons people require long-term care services and supports. Many families find themselves completely unprepared for the costs and burdens created by cognitive decline.
Alzheimer's is irreversible and progressive. It usually slowly destroys a person's memory and thinking and reasoning skills.
Usually, it impacts people age 60 and above, although early-onset dementia does impact individuals much younger.
While research shows there is some filial relationship with your chance of being impacted by Alzheimer's, most people have no family history.
The U.S. Department of Health and Human Services (HHS) tells us that there is a high chance of anyone who reaches the age of 65 to need some type of long-term care service. People require long-term care due to a variety of illnesses, accidents, and just the overall impact of aging.
HHS says about seven in ten people who turn age 65 today will need, at some point, some type of long-term care services—either at home or in a facility. Women need care longer (3.7 years, on average) than men (2.2 years). 20% will need care for longer than five years.
Too many American families are not prepared for these costs and the impact it has on family members. Often, adult children get the responsibility of either being a caregiver or having to manage paid caregivers – sometimes both. Family members face tremendous burdens which impact their own families, careers and interfere with their own health and normal daily responsibilities.
The Associated Press-NORC Center for Public Affairs Research found that many aspects of life get ignored or set aside due to their responsibility of being a caregiver.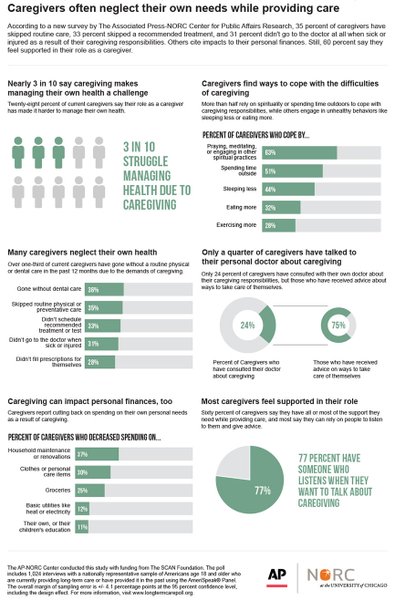 Today more people are aware of the financial costs and burdens that longevity brings. The challenges of your future retirement are many. Most experts suggest you need a plan to address long-term care prior to your retirement.
For many Americans, this means adding affordable Long-Term Care Insurance. These policies provide you with access to your choice of quality care options. This includes care in your own home as well as adult daycare centers, assisted living facilities, memory care facilities, and well as the traditional nursing home.
"Several options exist for consumers. Often people are unaware that Long-Term Care Insurance is custom designed. You get to decide the exact amount of benefit you wish to have in place. As a specialist, I do make recommendations, but the ultimate decision is made by the individual or couple."

Don Strickler, a specialist in long-term care planning
Most experts suggest starting planning in your 40s or 50s since your health is usually still good and premiums are low. Start your research by finding the current and future cost of long-term care services in your state. Plus, most states have Long-Term Care Partnership plans available which provide dollar-for-dollar asset protection. Find your state on the LTC NEWS MAP by clicking here.
Find a long-term care specialist by clicking here.
Nobody can prevent themselves from suffering from cognitive decline or other aging issues. However, most people would agree that they don't want to place their family into the position of being a caregiver. Nor do most people want to drain hard-earned savings from the expensive costs of long-term care services. Take action before it becomes too late so you can enjoy a successful future retirement.
About the Author

An LTC News author focusing on long-term care and aging.

James Kelly

Contributor since August 21st, 2017