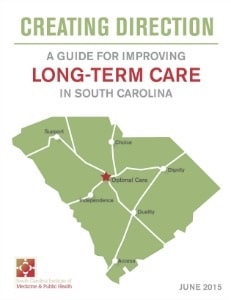 "South Carolina has seen and will continue to see unprecedented growth in the number of older adults in our population, with increased health, social and daily living needs. We are not nearly ready to meet them," says University of South Carolina Professor Anna Scheyett in a guest column in "The State" newspaper.
The South Carolina Institute for Medicine and Public Health convened a task force on Long Term Care which Scheyett was part of. They examined these issues and made actionable recommendations. The task force was comprised of more than 60 health-care providers, advocates and researchers.
The report, published by the South Carolina lnstitute of Medicine & Public Health in June, 2015, said individuals of all ages can find themselves in need of Long Term Health Care due to limitations caused by physical, cognitive or chronic health conditions.
"Older adults, though, are more likely than most to need such services due to the limiting effects of aging. In fact, an estimated 70% of those over 65 will need Long Term Health Care in their lifetime. In 2014, an estimated 734,537 South Carolinians were age 65 and older, a number that is set to grow dramatically with the rise of the Baby Boom generation. By 2029, when the youngest Baby Boomers reach age 65, it is expected that our state's population of older adults will exceed 1.1 million, resulting in 1 in 5 South Carolinians being over the age of 65," the report stated.
"Our current system is disjointed, confusing and simply lacks the capacity to meet the current — much less future — demands. Older adults deserve to live with dignity in their homes for as long as possible and, if needed, in safe and comfortable residential settings. Family members deserve support in ensuring that their loved ones are well-cared for," said Professor Scheyett.
South Carolina, like most states, have active partnership programs in place. The program, if a person has a partnership certified Long Term Care Insurance Policy, provides dollar-for-dollar asset protect. This is what regulators refer to as "asset disregard".
The program can be a key part of retirement planning for many people. Partnership is a collaboration between state government and insurance companies. Under this partnership, applicants who purchase qualifying Long Term Care Insurance policies can access Medicaid coverage while retaining assets they would normally be required to spend on their Long Term Health Care.
Matt McCann, a leading specialist in Long Term Health Care Planning, explained many people use partnership policies, in South Carolina as well as other states, to protect future retirement assets and guarantee they won't have to exhaust all their savings.
"Many people are concerned. They work hard to save for their future retirements. They fund their 401k's and IRA's and they expect that money to produce future retirement income. They feel is it an important part of retirement planning to protect these assets as make sure they are never a burden on their loved ones. Affordable Long Term Care Insurance can provide the answer for many," said McCann.
The South Carolina Taskforce Report explains as the Baby Boom generation moves into their older years, the cost of Long Term Health Care both nationally and in South Carolina will be staggering. The report says many families are "forced by circumstances to confront the reality that they, a friend or a family member need Long Term Care."
#SouthCarolina #Partnership #longtermcare #LTC #retirement