Coping with Sadness, Guilt after Nursing Home Placement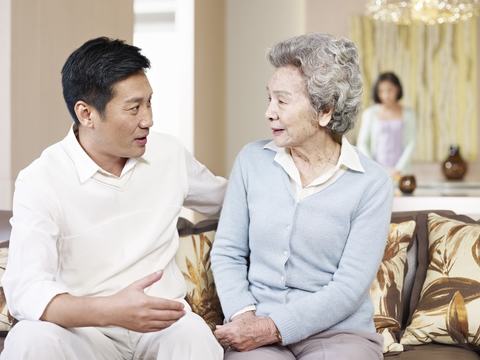 Article Updated:October 14th, 2019
Many people have heard their parents say this at some point, "Whatever you do, promise me you won't put me in a nursing home." Have you heard these words? The fact is few if anyone ever wants to be in a nursing home. Nor do family members desire to force the issue with an older parent. Many times, without an advance plan, this becomes the end result. In some cases, even with advance planning, a nursing home is the best option. If you are dealing with this now you may feel guilty even though it may be the best thing for your family member. How do you deal with this guilt and depression? What have you done differently than your parent so your family will not have to go through the same thing?
Read this first: www.verywell.com/guilt-and-grief-in-nursing-homes
So what have you done differently than your parents?
Affordable Long-Term Care Insurance will provide the resources for quality caregivers in your home, adult daycare, assisted living as well as nursing homes. It will also safeguard assets since the cost of care is very high. Many plans offer case management which will help your family make recommendations when the time comes you require care. This eases both the financial and emotional burdens that long-term care creates. The time to plan is well before you need care ... plan prior to retirement. Don't place your family into the guilt of crisis management because you failed to plan.
Tips for Planning
Long-Term Care Insurance is very affordable but there are a few tips to consider as you start your learning process:
Premiums are based on AGE and HEALTH as well as the benefits the policy offers. Start looking into plans ideally before you retire – age 40 to 65. Plans are still available for those over 65 but some options might not be available due to health or costs.
Work with a specialist. A vast majority of financial advisors or general insurance agents don't understand how these plans really work, they don't understand underwriting and how it differs from each company, they tend to not understand the benefits of the partnership program which is available in most states and they recommend benefits way larger than you may actually need. A specialist will work with all the top companies, have at least 500 clients with Long-Term Care Insurance policies so they know how these plans work at the time of claim, and can give you affordable options that are based on your situation.
Partnership Policies- Most states do offer partnership plans which offer additional dollar-for-dollar asset protection. Be sure to learn how these plans work.
"Hybrid" plans are available which are life insurance or annuities with riders which pay for long-term care. Generally, these are single premium products which offer some or all your money back if you are lucky enough to never require care. Be careful here and work with a qualified Long-Term Care Insurance specialist since these types of policies can differ drastically on how they work.
Even a small policy will help. Keep in mind most claims start and end at home. Most people will prefer to be in their own home. A small policy can fund a large amount of home health care allowing you to avoid or at least delay the need for a nursing home.
Long-Term Care Insurance Offers More Than Just Asset Protection
Long-Term Care Insurance provides you with access to your choice of quality care in the setting you desire. These plans offer asset and income protection. But Long-Term Care Insurance is all about family. You can add peace-of-mind to your retirement plan and make sure your family will not be burdened from the high risk of needing care. People need care either due to illness, accident or the impact of aging. We are all living longer and advances in medical science make that risk even larger. Act now and plan ahead.
No matter which type of plan you purchase, Long-Term Care Insurance is easy, affordable and rate stable income and asset protection. These policies are custom designed. But be careful as premiums can vary over 100% between companies for the exact same coverage. Premiums are based on your age, health, and amount of benefits purchased at the time of application. The best time to obtain coverage is prior to your retirement, in your 40s or 50s, to take advantage of low premiums and good health discounts.
Working With a Specialist is Essential
Since Long-Term Care Insurance is custom designed ... and policies can vary in price, be sure to seek the help of a qualified Long-Term Care Insurance specialist. Be sure they understand the underwriting criteria of each company, is with policy design, claims, and the many tax advantages that are available. Complete understanding of the federal/state partnership program is also key. Find a specialist by clicking here.
Discussion Points with a Specialist
Partnership – Most states offer special policies that provide dollar-for-dollar asset protection. The Long-Term Care Insurance Partnership Program might be one of the best-kept secrets in retirement planning. Make sure the specialist explains this program and how it might help you.
Tax incentives – There are federal tax incentives available for some people. If you own your own business be sure to ask.
Health Savings Accounts – If you have an HSA you can use the pre-tax money in your account to pay for the premium.
Asset-Based or Hybrid policies – These are life insurance or annuities with a rider for long-term care. Careful, only a handful are actually a long-term care benefit. However, one of these policies can provide you with the flexibility of both a long-term care benefit or a death benefit. They are expensive but can be paid with a single premium.
Health and Family History - Make sure the specialist asks you detailed questions about your health, family history, and retirement plans. Underwritingcriteria varies with each insurance company. If they are not asking you detailed questions then find another specialist.
Cost of Care Calculator
Take a moment and find the current and future costs of long-term care in the area you live in. This will help you decide the amount of coverage is appropriate for you in your situation. For example, if you have a defined pension when you retire the amount of benefits you would need for long-term care would be less than an individual who will fund their future retirement with earnings off investments. In that case, protecting the principal is essential since that will produce your future income.
Find your state and use the LTC NEWS cost of care calculator by clicking here.
Planning for the financial costs and burdens of longevity comes down to your family. Make getting older easier on those you love.