Staying Safe in Hot Weather for Older Adults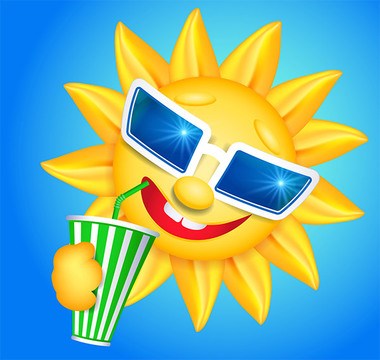 Summer brings warm weather over much of the United States. The hot weather can be hard on younger people or those with health issues. However, as one gets older, the added stress of warm weather is a greater issue. If you care for an older family member or live afar and worry about their well-being, some common-sense advice will make it easier on them and give you peace-of-mind.
"As we age, and especially as we get into our 70s or 80s, we don't tolerate heat or perceive the dangers as well as when we were younger," Dr. Corey Slovis, head of emergency medicine at Vanderbilt University Medical Center in Nashville, told ABC News in a story on this issue. http://abcnews.go.com/Health/elderly-ignore-heat-warnings/story?id=14082326
The National Institute on Aging (NIA), part of the National Institutes of Health, says as temperatures rise, it is important to understand the health risks that excessive heat can bring and know the signs of heat-related illnesses. Older adults and people with chronic medical conditions are particularly susceptible to hyperthermia and other heat-related illnesses.
Hot weather can be a big concern for older people says Calvin Hirsch, a geriatrics specialist with UC Davis Health System.
"No one is comfortable when the temperature soars," said Hirsch, who is a professor of internal medicine, "but seniors account for a disproportionate number of heat-related hospitalizations and deaths."
As our bodies age, skin and fat tissue, the body's insulators, tend to thin. Because of that change, seniors regulate temperature less efficiently, putting them at greater risk than others from heat-related health problems. Signs of dehydration or heat exhaustion are less pronounced in seniors, who:
Tend to perspire less than younger people—so their bodies don't shed heat as easily as they once did.
May lose some of their sense of thirst and not feel thirsty until severe dehydration has set in.
May take high blood pressure and heart disease medications that remove salt and fluids from the body. These medications, coupled with heat, can cause a senior to become dehydrated—leading to confusion, organ damage and even death.
Heat stress, heat fatigue, heat syncope (sudden dizziness after exercising in the heat), heat cramps and heat exhaustion are all forms of hyperthermia. Hyperthermia is caused by a failure of the body's heat-regulating mechanisms. The risk of hyperthermia can increase with the combination of higher temperatures, underlying general health, and individual lifestyle.
Lifestyle factors that can increase risk include not drinking enough fluids, living in housing without air conditioning, lack of mobility and access to transportation, overdressing, visiting overcrowded places and not understanding how to respond to hot weather conditions.
On hot and humid days, especially when an air pollution alert is in effect, older adults, particularly those with chronic medical conditions, should stay indoors in cooler places. If possible, people without air conditioners or fans should go to places that do have air conditioning, such as senior centers, shopping malls, movie theaters and libraries. Cooling centers, which may be set up by local public health agencies, religious groups and social service organizations in many communities, are another option.
Keep in mind, older adults may not feel thirsty. They get dehydrated more easily leading to a fall. These falls often will lead to long-term care. So, it is very important experts say to make sure your older family member is drink water even if they don't feel "hot".
The Centers for Disease Control and Prevention (CDC) note that "around 618 people in the United States are killed by extreme heat every year" even though heat-related deaths and illness are preventable.
Heat stroke is a life-threatening form of hyperthermia. It occurs when the body is overwhelmed by heat and unable to control its temperature. Signs and symptoms of heat stroke include a significant increase in body temperature (generally above 104 degrees Fahrenheit), changes in mental status (like confusion or combativeness), strong rapid pulse, lack of sweating, dry flushed skin, feeling faint, staggering or coma. Emergency medical attention is critical for a person with heat stroke symptoms, especially an older adult.
There are many factors that can increase risk for hyperthermia, including:
Dehydration
Alcohol use
Reduced sweating caused by medications such as diuretics, sedatives, tranquilizers and certain heart and blood pressure drugs
High blood pressure or other health conditions that require changes in diet. People on salt-restricted diets may be at increased risk; however, salt pills should not be used without first consulting a doctor.
Use of multiple medications. It is important, however, to continue to take prescribed medication and discuss possible problems with a physician.
Age-related changes to the skin such as poor blood circulation and inefficient sweat production
Heart, lung and kidney diseases, as well as any illness that causes general weakness or fever
Being substantially overweight or underweight
The CDC recommends that your older loved ones:
STAY COOL
Wear Appropriate Clothing: Choose lightweight, light-colored, loose-fitting clothing.
Stay Cool Indoors: Stay in an air-conditioned place as much as possible. If your home does not have air conditioning, go to the shopping mall or public library—even a few hours spent in air conditioning can help your body stay cooler when you go back into the heat. Call your local health department to see if there are any heat-relief shelters in your area.
Keep in mind: Electric fans may provide comfort, but when the temperature is in the high 90s, they will not prevent heat-related illness. Taking a cool shower or bath or moving to an air-conditioned place is a much better way to cool off. Use your stove and oven less to maintain a cooler temperature in your home.
Schedule Outdoor Activities Carefully: Try to limit your outdoor activity to when it's coolest, like morning and evening hours. Rest often in shady areas so that your body has a chance to recover.
Pace Yourself: Cut down on exercise during the heat. If you're not accustomed to working or exercising in a hot environment, start slowly and pick up the pace gradually. If exertion in the heat makes your heart pound and leaves you gasping for breath, STOP all activity. Get into a cool area or into the shade, and rest, especially if you become lightheaded, confused, weak, or faint.
Wear Sunscreen: Sunburn affects your body's ability to cool down and can make you dehydrated. If you must go outdoors, protect yourself from the sun by wearing a wide-brimmed hat, sunglasses, and by putting on sunscreen of SPF 15 or higher 30 minutes prior to going out. Continue to reapply it according to the package directions.
Tip: Look for sunscreens that say, "broad spectrum" or "UVA/UVB protection" on their labels- these products work best.
Avoid Hot and Heavy Meals: They add heat to your body!
Stay Hydrated
Drink Plenty of Fluids: Drink more fluids, regardless of how active you are. Don't wait until you're thirsty to drink.
Warning:
Stay away from very sugary or alcoholic drinks—these actually cause you to lose more body fluid. Also avoid very cold drinks, because they can cause stomach cramps.
Replace Salt and Minerals: Heavy sweating removes salt and minerals from the body that need to be replaced. A sports drink can replace the salt and minerals you lose in sweat.
If you are on a low-salt diet, have diabetes, high blood pressure, or other chronic conditions, talk with your doctor before drinking a sports beverage or taking salt tablets.
Keep Your Pets Hydrated: Provide plenty of fresh water for your pets, and leave the water in a shady area.
Stay Informed
Check for Updates: Check your local news on radio or TV for extreme heat alerts and safety tips and to learn about any cooling shelters in your area. If you are checking for a loved in who does not live nearby there are many websites which can provide you with this information.
Know the Signs: Learn the signs and symptoms of heat-related illnesses and how to treat them.
If your loved one is 65 years of age or older, be sure to check on them twice a day during a heat wave.
Monitor Those at High Risk: Although anyone at any time can suffer from heat-related illness, some people are at greater risk than others:
Infants and young children
People 65 years of age or older
People who are overweight
People who overexert during work or exercise
People who are physically ill, especially with heart disease or high blood pressure, or who take certain medications, such as for depression, insomnia, or poor circulation
Visit adults at risk at least twice a day and closely watch them for signs of heat exhaustion or heat stroke. Infants and young children, of course, need much more frequent watching.
As we age our tolerances for everything, including dealing with summer's heat, is much less. If you have an older parent (65+) be sure to check on them even if they appear to be healthy and independent. If they are already having aging and health issues this becomes even more important. If they are receiving care at home speak with their caregiver (unless you are the caregiver) as well. If they live in assisted living or a nursing home be sure they pay attention to your loved one and the air-conditioning is working well.
Being a long-distance caregiver is hard. Even if you are close by it is very hard to deal with your life, your career, family and other responsibilities and your older family member.
What have you done to prepare for the time you are older? Affordable Long-Term Care Insurance will provide the resources for quality care either at home or in a facility. Plus, in addition to protecting assets, it will provide greater peace-of-mind for your adult children down the road.
Long-Term Care will impact you, your family, your savings and your lifestyle. Experts suggest investigating Long-Term Care Insurance well before you retire as part of your retirement plan.