Humans Don't Age Like a Fine Wine - Plan for Longevity Younger
Article Updated:February 1st, 2020
It would be nice if we all aged like a fine California wine. In some ways, we do improve with age; however, despite advances in medical science, many of us will still have chronic health issues that develop sooner than later. While lifespan is still pushing many people to live to 80 and beyond, the quality of that life will impact your savings, lifestyle, legacy, and our families.
Many financial and insurance experts suggest we start planning for longevity when we are younger. Many of us plan for retirement by saving money in qualified accounts like an employer's 401(k) or 403(b). We might have an IRA, or a SEP as well. These accounts are only one part of the equation. The financial costs and burdens of aging will negatively impact your assets and income. Thus, adversely affecting your lifestyle.
Care Costs are High - Health Insurance & MedicareWon't Pay for Long-Term Care
The truth is long-term care costs are very high. Most people don't plan for these extended care costs. They incorrectly assume health insurance, Medicare, or Medicaresupplements will pay for these costs. Outside a small amount of skilled care, these programs will not pay for the majority of long-term care services and supports we will need when we are older.
Other people think their spouse or adult children will be able to take care of their old age needs. Your family is not a realistic solution as an older spouse will not physically be able to be a primary caregiver.
Families Not Prepared to be Caregivers
Adult children have their own careers, spouses, children, and responsibilities. Plus, do you really want them to perform the very personal tasks that are associated with long-term care? Few of us want that kind of burden to be placed on our family.
The solution for many is Long-Term Care Insurance. The problem is two-fold. The perception that the cost of insurance is high. The second is too many people wait too long when health issues make it more difficult, costly, or impossible to obtain coverage.
LTC Insurance is Easy and Affordable Income and Asset Protection
Long-Term Care Insurance is very affordable. Premiums are much more rate stable than in the past. Premiums are now based on the extremely low-interest-rate environment, low lapse rate (very few people ever cancel their policies for any reason), and conservative underwriting. Underwritingcan be a big issue, especially if you wait until you are older and have several health conditions.
Many states have rate stability rules in place, which give consumers additional peace-of-mind. Find your state by clicking here.
A just-released study conducted by the American Association for Long-Term Care Insurance (AALTCI – www.aaLTCi.org), a national consumer education group, shows waiting too long could impact your ability to obtain coverage.
Waiting Too Long to Get LTC Policy Could Lead to Decline in Coverage
The report shows that nearly half of individuals 70 or older who apply for Long-Term Care Insurance are declined coverage due to existing health conditions.
"Individuals mistakenly believe they can obtain Long-Term Care Insurance protection at any age," explains Jesse Slome, director of AALTCI. "It is especially harder to health-qualify at older ages because of our health changes, and it rarely gets better as we age."
You can read about their latest study by clicking here.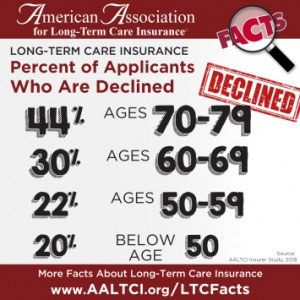 The AALTCI released results of a study of leading insurance companies that offer Long-Term Care Insurance. The findings show the longer you wait to apply for a policy, the more likely your ability to get coverage decreases. About 44 percent of individuals age 70 or older who applied for coverage were declined.
"That means they took the time to work with an insurance agent who completed and submitted an application," Slome notes.
These numbers only reflect those who actually applied for coverage. Often, when speaking with a Long-Term Care Insurance Specialist, they will advise the client not to apply if they already have apparent health issues they would know would be cause for the insurance company to decline the application.
While many general insurance agents and financial advisors ask a few health questions, Long-Term Care Insurance specialists ask many detailed questions so they can make proper recommendations based on your age, health, and other factors.
Your Health Today Gives You the Opportunity to Plan
"When health conditions already exist, the agent will typically advise the individual they will be declined and not spend time completing the application," said Slome.
Even at younger ages, there is a significant amount of people who are unable to get coverage. Often, it is a person's change of health that motivated them to start looking in the first place.
"So many Americans take medications which mislead us to think we are in good health when we really are in good controlled health," Slome adds.
Experts Suggest Planning in Your 50s
"It's advisable to start thinking about long-term care planning in your 50s," he advises. "That's when costs are lower and, more importantly, you are far more likely to meet the required health qualifications. Once your application is accepted, your coverage can not be canceled even when your health changes, and it will change."
A plan for longevity will help you have a successful future retirement. Long-Term Care Insurance can be a big part of that plan as you safeguard retirement funds while reducing the burdens placed on loved ones.
Big Retirement Secret Revealed
Start by discovering the current and future cost of long-term health care in your state. One of the biggest retirement planning secrets is the partnership program. This a partnership policy you are able to shelter assets from care costs. Forty-five states offer these federal/state partnership plans which provide additional dollar-for-dollar asset protection. Some states offer tax incentives on top of federal tax advantages some people enjoy. Click here and read more about the partnership program.
Start your research by using the LTC NEWS cost of care calculator, which will show you both the current and future expected cost of care services where you live. Just click here to use this resource.
If you have existing health issues, be sure to discuss them with an experienced Long-Term Care specialist. There are products available that have less conservative underwriting criteria. These include limited duration plans and hybrid plans which combine life insurance or an annuity with long-term care coverage. Plus, every company has its own criteria for underwriting.
Work with Long-Term Care Insurance Specialist
Find a trusted specialist who works with many of the top companies to help you find appropriate and affordable coverage. You can click here to seek a qualified and trusted specialist.
The best time to plan is when you think it will never happen to you. Generally, this is when you are younger and enjoy good health. There is a long road ahead when preparing and then enjoying retirement. Longevity will bring many bumps along the way. Those include health and aging issues and the costs and burdens that are created by them. The need to prepare will give you independence and control and provide your family with peace-of-mind.
Act in your 40s or 50s before you retire for the most options and the lowest premiums.
Remember, Long-Term Care Insurance is comprehensive. Most policies will pay for all levels and types of long-term care, including care in your own home. Plus, unlike your savings that are influenced by the markets, Long-Term Care Insurance provides you with guaranteed benefits, and policies cannot be canceled unless you stop paying your premium.
Many policies provide professional assistance at the time of claim. These nurses or licensed social works help develop a plan-of-care based on your wishes and the quality of care providers. The case management gives your family time to be family.
Guaranteed Benefits to Safeguard Savings and Ease Family Stress
Long-Term Care Insurance is an essential part of your overall retirement plan. The good news is a policy, once you obtain one, can never be canceled unless you failed to pay the premium. It doesn't matter how old you get. It doesn't matter what happens with your health.
You will enjoy guaranteed and tax-free benefits. You will not have to worry about the markets and the tax consequences of selling off assets to pay for future care expenses.
Free Quotes from All Major Companies
Get free quotes from all the major insurance companies that offer this type of coverage. Click here for your free quotes.