Do More Than Just Be Aware of Long-Term Care – Take Action
Article Updated:
December 6th, 2019
November was Long-Term Care Awareness Month. It was also National Family Caregivers Month. That makes sense since the two are tied together. If you are not aware of long-term care and the issue of family caregivers it is not surprising as Americans are also in denial that they will ever require long-term care services. This is despite a large number of Americans who are already caregivers for an older parent or family member.
Just because it is no longer November doesn't mean you should forget the problems associated with longevity. Every family should have an understanding of how a long-term care event would impact them. The impact of long-term care is more than just about money, although the cost of long-term care services is very expensive. Often family members must become caregivers. This caregiving has its own impact on the caregiver and their family.
Perhaps you have read about the statistics. There are so many. The United States Department of Health and Human Services tells us that if you reach the age of 65 you have a seven in ten chance of needing some type of long-term care service in your lifetime. That doesn't mean 70% need "long-term care", however. It does mean many of us will need help with activities of daily living or require supervision due to a cognitive decline.
Care Costs Continue to Grow
The cost of long-term care continues to grow and places a tremendous strain on the budget of most American families. The 2019 Genworth annual cost of care survey shows the national average of one year of home healthcare running $4395 a month. However, this cost in 25 years is expected to be $9181 a month. Imagine the strain on your cash flow and lifestyle either today or in the decades to come.
The news for assisted living is, as expected, not a pretty picture with the national average base costs running $4051 a month today and $8482 in 2044. Skilled nursing home cost is even more with an annual cost of over $100,000 in 2019.
Family Caregivers Face Stress
Caregiving is not an easy task and it places a physical, emotional, and financial burden on your family. Typically, a daughter or daughter-in-law, these family caregivers have to balance the needs of being a caregiver along with their jobs, spouses, and children. Surveys show the health and well-being of a caregiver are negatively impacted as well.
Have you prepared your family and your finances for the very expensive costs of extended care and the stress it places on those you love?
One solution many American families are turning to is Long-Term Care Insurance. These affordable policies are paying out huge benefits. In 2018 the major insurance companies paid out over $10.3 Billion in benefits. This money is being used to access quality care in all settings including care at home.
Women continue to need care more than men, although a husband typically will require care before the wife.
Mark Goldberg, who runs the FPS Insurance Agency in Frisco, Texas, says his clients express the desire to not ever be a burden on their family.
"They have seen the impact on everyone in the family and [what happens to] their finances. They don't want to be in that position."

Mark Goldberg, who runs the FPS Insurance Agency
With no advance plan, the full responsibility of either caregiving or managing paid care services falls on family members. Even managing paid care takes an emotional toll.
Access to Quality Care – Independence – Peace-of-Mind
Access to quality care and independence is a major objective of many people who research long-term care planning. In the end, having a plan in place serves multiple objectives.
"The vast majority of my clients tell me its "peace of mind" they desire."

Michelle Perloe, Long-Term Care Insurance specialist
Perloe says that some clients would never have the funds to pay for the costs of quality care, others are looking at protecting their estates, either for their family or even for charities.
There are several types of Long-Term Care Insurance. Traditional insurance plans have been a solution that has been available for decades. You pay an ongoing premium and when you need care the insurance company will pay a monthly or daily benefit toward the cost of that care.
Partnership Long-Term Care Insurance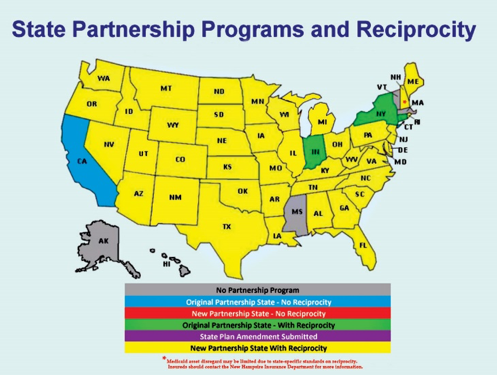 In forty-five states special Partnership Long-Term Care Insurance policies are available. They provide an additional safety net by providing dollar-for-dollar asset protection in the event you were to ever exhaust all the benefits in your policy. This allows you to access the Medicaid program's long-term care benefit without being poor.
This seems to be one of the biggest secrets in retirement planning. Author and Long-Term Care Insurance specialist Margie Barrie says very few consumers know about the program but she talks about it with every client. She says it is a very valuable concept but acknowledges that many agents don't talk about the program and its benefits.
"The Partnership aspect of the [Long-Term Care] policy can literally be the difference between long-term care expenses forcing a person and their family into financial ruin or not." said Don Strickler, an Indiana based Long-Term Care Insurance specialist.

Don Strickler, Long-Term Care specialist

"Unfortunately, in my experience, many financial planners take advantage of their "trusted advisor" status and do not take the time to educate their clients regarding the different types of policies that are available. In short, they sell their clients something rather than help their clients purchasing something. The difference is remarkable."

Don Strickler
Cassandra Watson, President of NextGen Long-Term Care Planning, says that many top financial advisors are very much aware of the risk that long-term care can pose to their clients' portfolios, but Partnership often flies under the radar.
"Partnership can be critical to give people a security blanket against catastrophic issues, and it provides extra peace of mind."

Cassandra Watson, President of NextGen Long-Term Care Planning
Several Types of Plans Available
There are several types of plans which you could choose from. It can be somewhat confusing but Long-Term Care Insurance specialists usually have substantial experience in this area and can help a consumer select the right plan.
In addition to traditional and partnership certified polices, asset-based or "hybrid" policies are available. These combine life insurance with coverage for long-term care. This means you will either receive the tax-free benefits for long-term care or your family the get the tax-free death benefit.
Goldberg says that hybrid options have become the most popular option for many consumers.
"One way or the other you will get the money you invest back."

Mark Goldberg
Most experts agree having some solution for long-term care should be part of your retirement plan. Being aware of the financial costs and burdens created with longevity is step one. Step two would be to start researching your options.
Use Research Tools
Start by finding the current and future cost of care services in your area. The LTC NEWS cost of care calculator will be very helpful. You will also find critical information like the availability of Partnership policies, tax incentives and more. Click here to find your area.
The American Association for Long-Term Care Insurance, a national consumer education, and advocacy group suggest working with a Long-Term Care specialist to help you learn about your options and design and shop for the best coverage at the best value.
Planning for long-term care revolves around the family.
A Women's Issue
"This is a women's issue. Men need to plan for their wives and daughters. Women need to plan for their own security and peace-of-mind. About 80% of the healthcare workforce is made up of women. Often, a wife becomes the first caregiver when a husband becomes in need of extended care. Daughters, or daughter-in-law, often, without advance planning become a caregiver for a parent. We can do better. We can avoid crisis management with some type of affordable Long-Term Care Insurance."

Matt McCann, a leading expert in long-term care planning
The best time to plan is, ideally, before you retire. Be ready to answer questions about your health, family history, and retirement plans so a specialist can make the right recommendation based on your specific situation as policies are custom designed.
You probably have a story to tell. Put it in writing and get it published on LTC NEWS. Maybe it is about caregiving, health, retirement planning, long-term care, and other issues that impact adults 40-70.
In turn, you can promote your website, your business, yourself, and your causes while you provide valuable information and ideas to the readers of LTC NEWS.
Write an Article for LTC NEWS
We consider articles exclusively written for LTC NEWS. Generally, articles should be related to any of the following topics:
• long-term care
• aging
• health
• retirement and financial planning
• caregiving
• retirement lifestyle
These, or related topics, should consider our target audience:
• Adults age 40-70
You can include hyperlinks to other articles or websites or to your website/blog. We reserve the right to edit. You can provide photographs if you own rights; otherwise, we will find appropriate photographs that match your topic.
Remember, content should be written exclusively for LTC NEWS. You can (and we encourage) you to link the article to your website or social media.
We promote articles through our social media outlets.
While you can promote a business or service, the article should not be an advertisement. It needs to have editorial content that stands on its own.
Email your story idea or article to: newsroom@ltcnews.com or click here.