"We have to pray for good luck," Anne says as she heads towards the living room on the Sunflower neighborhood. She laughs alongside a shahbaz—a versatile caregiver supporting residents on the neighborhood—as they discuss the $1.6 billion Mega Millions jackpot up for grabs the following day. Anne—who has lived on this same floor for over a decade—mentions that even if she does not win the lottery, she could still use the extra luck in her next game of Bingo. She then sees a good friend of hers and encourages him to join her. "Come on, Roger. Let's go to church."
Earlier in the day, Rev. Chava Redonnet leads another small gathering on the Tulip Neighborhood. She reads scripture to the small group gathered in a den overlooking Rochester's Highland Park. "Jesus said to him in reply, 'What do you want me to do for you?'" she says, before translating for Victor, a Spanish-speaking resident. "Entonces le dijo Jesús: '¿Qué quieres que haga por ti?'" As Redonnet—a chaplain with the official title of spiritual care partner—leads the group into a hymn called "Open My Eyes," another resident named Joan makes her way down the hallway and joins them in song.
Another service the following day will be conducted almost entirely in song. Redonnet explains that over the past couple of years, the number of people living with dementia on this particular household has increased, forcing her to recalibrate her approach. "It's not what I used to do on this floor," says Redonnet. "But the changing make-up of the neighborhood meant we had to start doing things differently."
On any given day at St. John's Home in Rochester, New York, there are several opportunities—some of them planned, others happening spontaneously—for residents to continue practicing their faith. The look-and-feel of each particular service has less to do with what denomination a person identifies with and more to do the neighborhood they live on. "We each have our own relationships with the residents and the households in which they live," explains Rev. Sarah Culp, spiritual care practice partner at St. John's. "Each individual service is a reflection of that relationship."
Culp leads a team of four pastoral care professionals offering spiritual guidance to over 400 skilled nursing residents at St. John's as well as the nearly 600 people living in the nearby St. John's Meadows and Brickstone by St. John's independent living communities. "We really become part of the team," says Culp as she explains how chaplains on individual neighborhoods go outside the scope of typical pastoral care professionals to form deeper relationships with residents, their families, and fellow staff members. This more holistic philosophy helps chaplains better support the faith journeys of those who live and work in each household. "We take every opportunity we can to be present," Culp adds. "It is what we do, what we are trained to do, and what we love to do."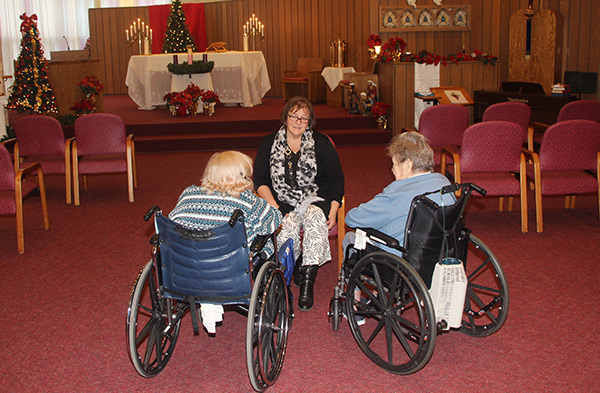 While St. John's Home does have a large chapel where more traditional religious services for residents and their family members are held multiple times a week, it is these more intimate spiritual gatherings that better reflect the direction in which the organization is heading. When St. John's opened two household-style nursing homes inspired by the Green House Project in 2011, the organization immediately recognized that these smaller, more comfortable settings resulted in happier, better cared for residents. Everyday activities like meals, casual gatherings, and spiritual observances all became more meaningful and accessible for the people living in the houses. St. John's has since taken the success of the Green House homes and applied a similar approach to their other skilled nursing residences. Over the past three years, St. John's Home has seen a transition from a large, more institutional nursing home into six individually run neighborhoods as part of the small homes initiative. Spiritual Care team members are assigned to specific households and offer guidance and support to residents and staff.
This shift towards providing faith and spiritual guidance on a more intimate level is perhaps best illustrated on a recent Friday afternoon at St. John's Home. Reverends Culp and Redonnet are leading a small service in the living room of the Lilac Neighborhood that also serves as a memorial service for a resident who passed away the week before. Redonnet reflects on the life of their lost friend Larry: a Holocaust survivor, furniture salesman, and later a limo driver. "He was such a good man, always with a smile on his face," remembers Lloyd, a Lilac resident who also started a church of his own decades ago.
Once they finish sharing their memories of Larry, Lloyd leads the group in a rendition of This Little Light of Mine. While some of the residents can no longer consistently articulate their thoughts, they can all sing or hum along to a familiar tune.
Tom Harner has served as marketing communications manager at St. John's since 2015. He has been helping tell the unique stories of older adults and their caregivers in the Rochester, NY area for 13 years.