Washington Long-Term Care
Explore and learn information about long-term care and insurance for Washington residents.
Washington Cost of Care Calculator
View the costs of Long-Term Care in your area. Use the slider below to view future costs of care services with inflation.
Washington Median
Long-Term Care
2021
2036(+15 Years)
2021
2036(+15 Years)
Homemaker Services
$5,499
$9,089(+$45,001)
$3,928
$6,492(+$32,143)
Home Health Aide
$5,499
$9,089(+$45,001)
$3,928
$6,492(+$32,143)
Adult Day Care
$1,451
$2,398(+$11,871)
$2,176
$3,596(+$17,807)
Assisted Living Facility
$5,289
$8,742(+$43,284)
$4,378
$7,235(+$35,824)
Semi-Private Room
$8,929
$14,758(+$73,071)
$8,772
$14,499(+$71,789)
Private Room
$10,010
$16,545(+$81,916)
$10,025
$16,570(+$82,044)
MonthYear
Care Facilities in Washington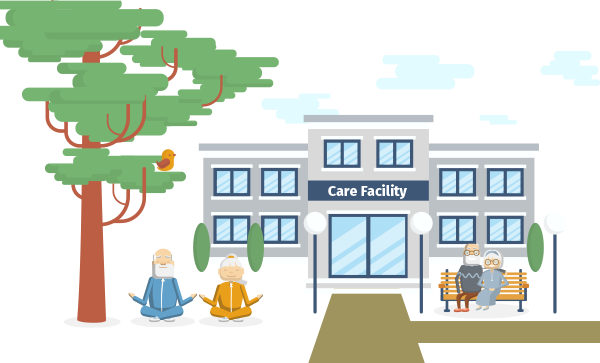 Be the First to Sponsor This Page!
Are you or someone you know manage a care facility in Washington?
Make this area yours! Display an image, brief description, and your contact details of your care facility including a website link.
Affordable Pricing
SEO Friendly Link
Backlink Discount
Visible Contact Details
Make this area yours! Display an image, brief description, and your contact details of your care facility including a website link.
Affordable Pricing
SEO Friendly Link
Backlink Discount
Visible Contact Details
Federal Partnership Program
The State of Washington participates in the federal/state long-term care partnership program. The program, as authorized by federal law, provides "dollar-for-dollar" asset protection if a policyholder exhausts the benefits from his/her qualified LTC insurance policy.
The Long-Term Care (LTC) Partnership Program is a joint Medicaid/private company venture designed to encourage individuals to purchase long-term care insurance so families can protect savings and the state government can protect the budget for the Medicaid program. When people plan for their own long-term care expenses with private LTC insurance, it places less pressure on the state programs that would otherwise need to provide assistance for those expenses.
Policy Example
This allows families to protect their assets for estate preservation in an amount equal to the benefits paid by the qualified long-term care policy. For example, if your Washington Long-Term Care Partnership policy paid $300,000 in benefits that same amount would be disregarded in the calculation for the spend-down requirements for Medicaid. The Partnership Program also protects those assets after death from Medicaid estate recovery.
Reciprocity
Most states have reciprocity with other states' long-term-care partnership programs including Washington. This means if you move from or to Washington your partnership asset protection follows you as well.
Medicaid
Long-Term Care Medicaid spend down is $2,000.
A spouse's minimum asset allowance is minimum of $58,075 up to a maximum of one-half of countable assets up to $130,380. Your spouse's minimum monthly income allowance is $2,155. * The home equity limit is $603,000.
For more information about the Medicaid program visit www.medicaid.gov
Rate Stability Rules
In addition, Washington consumers enjoy additional peace-of-mind as the state has adopted Long-Term Care Insurance Rate Stability Rules. These rules, developed the National Association of Insurance Commissioners, makes it much harder for an insurance company to get an approved rate increase.
Washington Long-Term Care Trust Act
This is a tax support long-term care benefit program providing state residents with up to $36,500 in benefits to pay for care at home and other services. To qualify for these benefits, you first must need assistance with normal activities-of-daily-living like eating, bathing, toileting or even with assistance with medications.
The program is funded with a payroll tax of 0.58 percent on employees. The state won't start to collect the tax until January of 2022, and won't start paying benefits until 2025. Keep in mind, despite the name, this really isn't "long-term care". It also provides a small benefit. While not a replacement for Long-Term Care Insurance, it can be helpful for many people and will work well with qualified Long-Term Care Insurance policies. The benefits paid by the state program will NOT count toward asset protection under the partnership program.
Things to Know About the Trust Act/Washington Cares Fund
The Washington State Long-Term Care Trust Act (now known as the Washington Cares Fund) is not a solution for long-term health care for most people. It is, however, helpful for many people who otherwise would have few options available to address the costs and family burdens that long-term care places on people in Washington State.
Here are a few additional facts to know:
The program will only pay for a small amount of care and services. It has a $36,500 lifetime maximum benefit.
The trigger for benefits is your need for help with at least 3 of 10 daily living activities. These activities are: medication management, personal hygiene, eating, toileting, transferring, body care, bathing, ambulation/mobility, dressing, and cognitive impairment.
You are required to use providers from a list approved by the state.
It takes ten years to fully vest in the program. If you are retired or disabled today you are not eligble. To be eligible for benefits, you must have paid into the system for three years within the past six years or for a total of 10 years, with at least five of those years paid without interruption. In addition, you must receive the benefits within the State of Washington.
Comprehensive but Limited Benefits
The plan's benefits are comprehensive, although, in theory, because the benefit is small, it will probably be used primarily for in-home services. These are covered services provided by the Trust Act:
Nursing Homes
Assisted Living Facilities
Adult Family Homes
In-Home care services (skilled and custodial)
Meals on Wheels
Transportation to and from the doctor
Wheelchair ramps
Medication management
Dementia education
Care coordination
Benefits Could Increase or Decrease
The benefits are only offered within Washington State. The benefits start at $100 and will be adjusted annually at a rate no greater than the Washington Consumer Price Index." An eight-person council will vote annually to decide whether to increase or decrease the benefits to ensure the program's solvency. In other words, the benefits are not exactly guaranteed.
Exemption for LTC Insurance
Owners of private Long-Term Care Insurance have the opportunity to opt-out of the program permanently by applying for an exemption.
You can apply for an exemption from the payroll tax deduction if you have purchased Long-Term Care Insurance before November 1st, 2021, as ordered by the Washington State Legislature).
The following types of Long-Term Care Insurance plans qualify:
Traditional Tax-Qualified (TQ) Long-Term Care Insurance policies

Individual plans - including Partnership plans
Employer group plans
Certain grandfathered older Non-Tax-Qualified plans

Life insurance riders that meet federal guidelines under U.S. Code 7702B(b)

Certain life insurance policies and/or annuities that supplement Long-Term Care Insurance
Washington State's Employment Security Department makes the final determination. Once you opt out of the tax, and the program, you can not later opt back in.
People who are retired are not allowed to participate in the program. The first time anyone in the program may qualify for benefits would be January 1st, 2025.
Products Approved in Washington
A variety of products are approved in Washington for Long-Term Care planning including traditional plans, along with certified partnership policies, and asset-based "hybrid" policies.
Several insurance companies have suspended sales of their Long-Term Care Insurance products in the State of Washington through Novemeber of 2021.
Tax Incentives
Washington does not offer any state tax incentive for qualified long-term care insurance. Federal tax incentives are available.
Reverse Mortgages in Washington State
In Washington, residents have an option to use reverse mortgages to help them in retirement. A reverse mortgage is a load that you don't have to pay back - or make payments on while you are alive. The tax-free money from a reverse mortgage can be used for many things, including
Reduce expenses
Income
Fund Long-Term Care Insurance
Provide resources for in-home care if you are unable to obtain LTC Insurance due to poor health
You must be at least 62 years old, and at least one owner must live in the house most of the year. Eligible homes include single-family dwellings, two to four-unit, owner-occupied dwellings, and some condominiums and manufactured homes.
By law, you can never owe more than your home's value when the loan is repaid. So, in the event your home loses value, you are protected. You don't make mortgage payments, but you still must pay the property taxes, insurance and maintain the property.
Learn more about reverse mortgages by clicking here.
*The federal government sets a new minimum and maximum amounts each year, but states can set their own minimum requirements at any level between the federal limits. This information is based on the best available sources.
State Breakdown
State Partnership Program
State Tax Incentives
Federal Tax Incentives
Rate Stability Rules
Medicaid Spend Down
$2,000
Minimum Asset Allowance
$58,075
Minimum Monthly Income Allowance
$2,155
Compare with All States
Long-Term Care Throughout Washington
Seattle
The Seattle metro, which includes Tacoma, Olympia, Bellevue, Bremerton, Silverdale, Mount Vernon, Anacortes, Oak Harbor, Centralia, and Shelton, is the largest in the state. The average cost of a skilled nursing facility runs $10,494 a month. The cost of an Assisted Living Facilityaverages $5,750 a month. Adult Day Care Centers $1,317 a month. Care at home, based on a 44-hour week, averages $6,092 a month.
Spokane
Spokane is the second-largest city in Washington. The average cost of a skilled nursing facility runs $9,688 a month. The cost of an Assisted Living Facilityaverages $4,000 a month. Adult Day Care Centers $1,300 a month. Care at home, based on a 44-hour week, averages $5,100 a month.
More Locations
Other population centers in the State of Washington include Bellingham, Kennewick, Kent, Lakewood, Pasco, Vancouver, and Yakima.
Top Frequently Asked Questions
View more questions, or ask your own in the F.A.Q. Section.